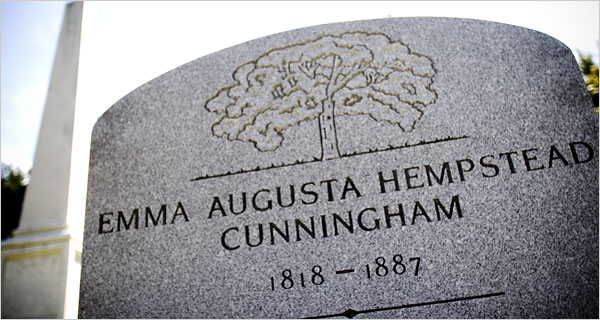 Among the nearly 600,000 graves in Green-Wood Cemetery one can find an almost unfathomable number of human stories… and because we're Boroughs of the Dead, we've discovered those that deal with Murder and Mayhem, Scandal and Spiritualism. With a focus on the scandalous and lesser-known inhabitants of Green-Wood, on this tour you'll see the final resting places of femmes fatales, clairvoyants, revolutionaries, spiritualists, gangsters, artists and murderers. Discover the scandals that rocked 19th century New York, from the newspaper editor who obsessively described every facet of a murdered prostitute's beautiful corpse in loving detail to the dentist who traded surgery for sex. These true histories are stranger than fiction, to say the least!
Tales of the bizarre and otherworldly in a Victorian Cemetery
Marvel at stories of the bizarre and otherworldly from Spiritualism's earliest origins to the Victorian fasting girl who experienced preternatural visions. Each stop on this tour has been selected to reflect an often-overlooked side of Victorian-era New York that was far from stuffy or straight-laced, and reflected less in the way of "progress" than a city discovering itself in fits and starts, blunders and errors, and — sometimes — incredibly strange tastes. This was an era that seethed with scandal, was filled with larger-than-life characters, and had more than its fair share of experimentation, both moral and spiritual.
All "Murder & Mayhem, Scandal & Spiritualism" tours are led by Boroughs of the Dead founder Andrea Janes. Andrea is the author of BOROUGHS OF THE DEAD: New York City Ghost Stories, the book that inspired this company. The book is a work of fiction, but in the course of her research, she discovered the city was a wealth of ghostly, gory stories, and decided she wanted to share them with the world. Andrea is also the author of the YA novel GLAMOUR, and several short horror stories.
Stroll through history and hear tales tragic and strange that evoke a long-forgotten New York, all while meandering through Green-Wood's gorgeous winding pathways on an autumn afternoon.
$5 of every ticket sold is donated to the Green-Wood Historic Fund.