This is the first in a series of holiday themed posts celebrating our annual Christmas tours. We'll be presenting three holiday themed ghost tours, Ghosts of Christmas Past, this December. To buy tickets to these events, click here!
We in New York City are lucky enough to have had some jolly old Dutch forefathers, who brought the holiday with them. When the British took over the colony in the 1660s, their children envied the Dutch boys and girls who got presents every December 6th and begged their parents to follow suit. Then in 1823 Clement Clark Moore wrote the poem "A Visit from St. Nicholas" (otherwise known as "'Twas the Night Before Christmas") at his Chelsea estate. Finally, in the 1860s, German immigrant and cartoonist Thomas Nast popularized the image of Santa as a jolly fat man in the pages of magazines like Puck and Harper's Illustrated Weekly.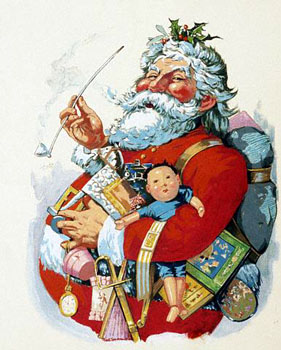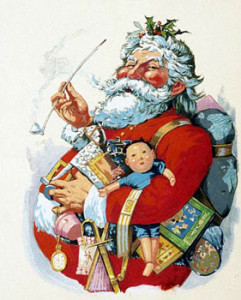 What about Christmas trees? You can also thank NYC's German immigrants for that. Did you know that in 1848 so many Germans settled in the east side of the city that it was called Kliene Deutscheland? It's true! And they brought many of their traditions, including the Christmas tree, wtih them. However, it was an illustration of Queen Victoria and family enjoying their Christmas tree reprinted in Godey's Ladies Book in the 1850s that really started the tree trend here in America. Residents of Kliene Deutscheland would have recognized Prince Albert, though: he was from the German House of Hanover.
So New Yorkers benefit from many traditions, be they Dutch or English or German. One New Yorker who was especially enamored of English traditions was Washington Irving, whose 1820 publication, The Sketchbook of Geoffrey Crayon contained an account of a visit to the Bracebridges'. It is clear Dickens read this and possibly drew on it for his "Ghosts of Christmas Past" scenes. At the Christmas party they feast on traditional food like boar's head and mince-pie and play many of the old games from days of yore, including Blind Man's Bluff. Apparently playing games was all the rage in Middle Ages England but then was outlawed when the Puritans came along, circa the 1630s, and Christmas festivities were not restored until the return of Charles II in 1660, though they lacked their former vigor.
Charles Dickens was so thrilled with Irving's accounts of old English festivities that he personally thanked the author while he was visiting the United States on his 1841 tour of this country. He thanked Irving for rekindling the old-fashioned Christmas spirit, and seemed to have been greatly inspired by the tales he read of games of Blind Man's Bluff, for a similar scene appears in the Ghosts of Christmas Past sequence in his own book, A Christmas Carol, which he wrote in 1843.
Like Washington Irving, I definitely have a "fondness for odd and obsolete things" and hope to revive old fashioned ghost-story-telling during this festive season. One day, I'd love to see as many ghost-themed activities as drunk Santas at Christmas in New York City. In the meantime, we'll be presenting three holiday themed ghost tours, Ghosts of Christmas Past, this December, plus an extra highlights tour and reading of classic ghost stories at the Player's Club on December 19th. To buy tickets to these events, click here!