Boroughs of the Dead presents two walking tours dedicated to the masters of literary horror this October: Lovecraft in Brooklyn follows the trajectory of H.P. Lovecraft's time living in Flatbush and Brooklyn Heights in the 1920s, and Edgar Allan Poe In Greenwich Village steps into the Greenwich Village of the 1840s, where Poe lived and worked at the height of his fame.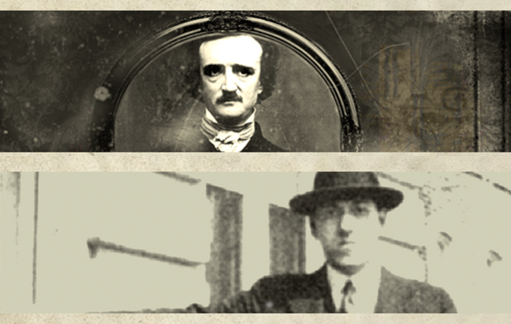 Take BOTH TOURS FOR $35! For those wishing to get a complete look at the two writers' lives in NYC, both tours can be taken for the price of $35 per ticket, a $15 discount off the regular price. Simply purchase tickets to either the Poe or Lovecraft tour on our website and receive a discount code to use on your second ticket purchase. Codes will be generated at point of purchase; subject to availability. (Already taken one of these tours in the past and interested in taking the other this October? Let us know! We'll be happy to honor the discount for you. Email info@boroughsofthedead.com.)
More About The Tours
Lovecraft in Brooklyn will trace a path from Lovecraft's high hopes at the beginning of his Brooklyn sojourn in Flatbush, to tough times in the area now known as Brooklyn Heights, and artistic renewal beyond. While Lovecraft, an avid walker and antiquarian, roamed New York City and its surroundings widely, this tour will focus specifically on his ties to Brooklyn, exploring his impressions and inspirations along the way.
The tour will take place in two sections, with a prequel in Flatbush and main section in Brooklyn Heights. Attendees can come to either section, but both are strongly recommended in order to get a full picture of Lovecraft's life while in Brooklyn. Transportation time is allowed between the sections. Admission covers both sections. Tour lasts approximately three hours.
On our Edgar Allan Poe In Greenwich Village tour, guests will visit the site of three of Poe's former homes, learn of his contemporary rivals and admirers, and see where he wrote some of his most famous stories and poems. We'll also discuss Poe's works of non-fiction such as The Literati of New York City and Doings of Gotham, a stunning pen-portrait of antebellum New York that touches on everything from Poe's opinions of our city's architecture to the sensational news items of the day, including the murder trial of Polly Bodine, the "Witch of Staten Island."
Interweaving some of Poe's most famous tales with Greenwich Village's macabre secret histories as we delve into the nature of Poe's relationship with New York, this tour is an absolute must for any Poe fan in New York City. This tour runs on the weekend of October 7th, to commemorate the anniversary of the author's death in 1849. Tour lasts approximately two hours.
Dates, Times & Tickets
Lovecraft in Brooklyn 
Sunday, October 1st at 2pm*
Sunday, October 15th at 2pm*
Edgar Allan Poe in Greenwich Village
Saturday, October 7th at 4pm
Sunday, October 8th at 2pm and 5pm
CLICK HERE FOR TICKETS
Price: 
$25 in advance, $30 at the door. Advance ticket purchase is highly recommended.
TAKE BOTH TOURS FOR $35 PER TICKET
* Tour meets at 3:45pm if you are meeting at Borough Hall in Brooklyn Heights for the second half of the tour only; additional meeting point details, directions, etc. are provided to ticket holders.