Lost Amusement Parks of New York City: Beyond Coney Island is a must-read for any fan of obsolete amusements, NYC history, and bygone attractions. The book, available now from History Press, is a breezy read, peppered with anecdotes and delightfully nostalgic details. I chatted with authors Wes and Barbara Gottlock after a recent talk at the New York Public Library, about amusement park arcana, their love of lost and forgotten places, and their work as docents at Bannerman's Castle.
What sparked your interest in writing about amusement parks?
I believe it started about four years ago when we were doing a lecture in the mid-Hudson valley about our third book Lost Towns of the Hudson Valley. After the talk, someone inquired if we knew anything about the "lost" Woodcliff Pleasure Park in Poughkeepsie. We weren't familiar with it so we did a little research. Our interest was piqued and it evolved into Lost Amusement Parks of the Hudson Valley. Our fascination with amusement parks then carried us into Lost Amusement Parks of New York City.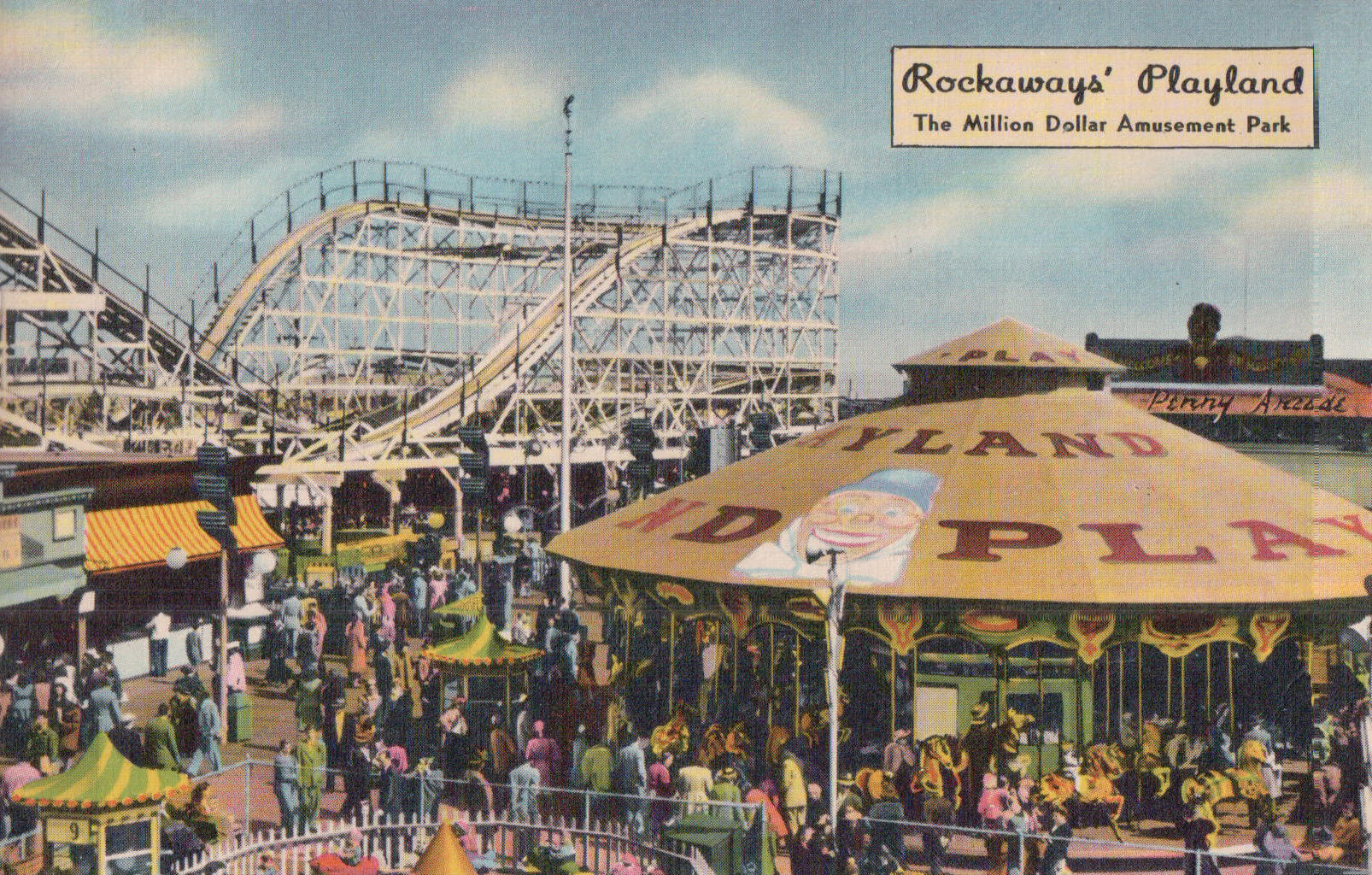 You unearthed so many amazing stories in the course of writing Lost Amusement Parks; what was the strangest, most interesting, or bizarre tale you came across? Is there one that resonated with you personally?
Thanks for the compliment! Here are just a few: The Old Mill was a classic "dark" boat road through tunnels. At Clason Point in the Bronx, it erupted in flames but folks cheered wildly because it finally put to an end the incessant, annoying and repetitive music cranked out by the electric piano.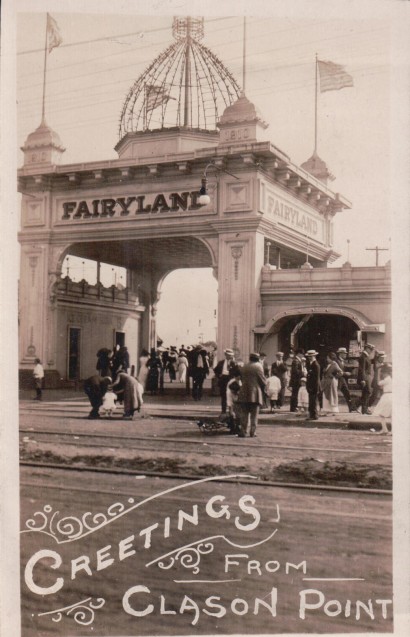 Another one was the abandoned burial grounds at Bowery Bay in Queens (later known as North Beach). One of its earliest settlers, Daniel Rapelye, built a homestead and raised a family around the start of the 18th century. Upon his death, he was placed in the family's burial ground just north of the home. The cemetery would eventually include many members of his ancestry. By 1903, Gala Park, a large amusement concession, was in full swing. Juxtaposed with the barely standing gravestones, a roaring roller coaster and a lively dance hall surrounded the site. Picknickers could be observed eating their lunches among the headstones and using the remaining foundation stones from the mansion as tables for their provisions.
What happened to North Beach?
By 1928 the park had fallen on hard times. The land was graded and remnants of the amusement area were buried. Later, at Mayor Fiorello LaGuardia's urging, the City of New York decided to build a commercial airport in the area, forever sealing the fate of the once-thriving area of North Beach.
If you could choose just one of these places to resurrect, which would it be and why?
Great question. I've always felt that amusement parks situated on or near the ocean offered the greatest experience. The smells of the salt water, swimming, the ocean breezes, and the sounds of the gulls enhanced the amusement park experience. Location was a major reason for the success of Coney Island. But of the parks we highlighted, I guess Rockaways' Playland in Queens would offer the best location. In terms of rides and concessions, the amusement area in Fort George had it all.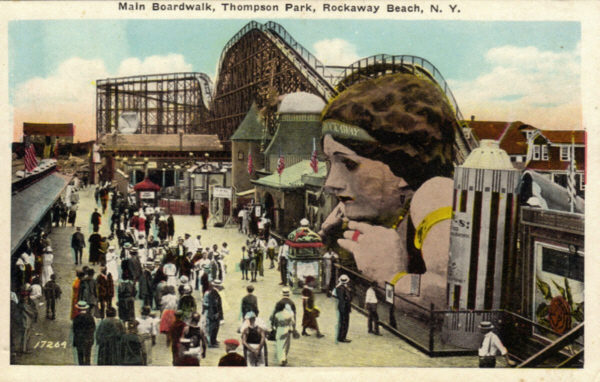 Are you currently working on a new project? If not, do you have a dream project you would love to do?
That's always a difficult question to answer. After a book comes out we usually take a bit of a respite from researching to focus on presentations but there are always ideas dancing around in our heads and being suggested to us. We might actually work on two books simultaneously starting next fall. A publishing company wants us to do a follow-up to Bannerman Castle (which we worked on with Thom Johnson). We have intimate knowledge of the island through extensive on-going research and have access to hundreds of images through our duties there. Putting that book together would be relatively "easy".
Along with that, I've always thought of doing a book about the East Village and Alphabet City (before it was dubbed that) during its radical years from the mid-60s through the 80s. Barbara was raised in Alphabet City (projects on Avenue D) and I taught for 32 years at a public school on E. 3rd St. between Avenue A and First Avenue. So there's lots of first-hand knowledge and experience there. The nitty-gritty research is another thing. It might be too broad a topic so I've thought of a pop-culture type twist highlighting rock music in those neighborhoods. Not only did many rock stars perform there, many lived in the neighborhood(s). A book I really wanted to do a few years back revolved around the old faded hand-painted signs on the sides of NYC buildings. Pictures would accompany research of the signs. I stopped thinking about it when someone came out with a book on just that topic. He did a great job.
How did you get started giving tours of Bannerman's Castle?
In 2002 we moved to a town-house on a cliff overlooking the Hudson River. Across the way we saw this little island with castle-like structures on it. We became intrigued. We took one of the first public tours to the island in 2003 I believe. Then we were hooked. Our own research followed. Barbara became a docent first and I followed suit a year or so later. So some 500 walking tours later, our responsibilities have mushroomed. Barbara does fewer tours now but she is the coordinator of volunteers and is an active board member. I continue to do about 70 tours a year. In addition, I'm the tour coordinator and tour guide trainer.
What do you enjoy most about being docents at Bannerman's Castle?
The people you meet! Most folks who come to the island are motivated in one way or another. Their interests may vary. Some just like to take photographs. Many enjoy the history and the architecture. Others may visit for the gardens or our special programs. Just being on an island in the Hudson is enough for some too. We have met countless people over the years, some of whom have become good friends.
Can you tell us about any upcoming events of interest that you are involved in?
We'll be speaking at the Green-Wood Cemetery in Brooklyn on April 12 at 1:00 PM. Francis Bannerman and his wife are interred there and we were asked us to do an illustrated presentation. The talk will be followed by a trolley ride around some of the grounds including a stop near the Bannerman grave site.
Reservations are required for the Bannerman talk at Green-Wood. You can reserve your tickets here.
A huge thank you to Wes and Barbara Gottlock for taking the time to answer my questions. I'll be at the talk at Green-Wood on April 12th, and I'll definitely be taking some of their tours there this fall. For more on the Gottlocks, visit www.gottlockbooks.com.