The following is a guest post by Boroughs of the Dead tour guide Marie Carter. This post is a travelogue; Boroughs of the Dead does not currently lead tours to Hart Island. If you are looking for information about how to get to Hart Island, please visit the NYC Department of Correction website.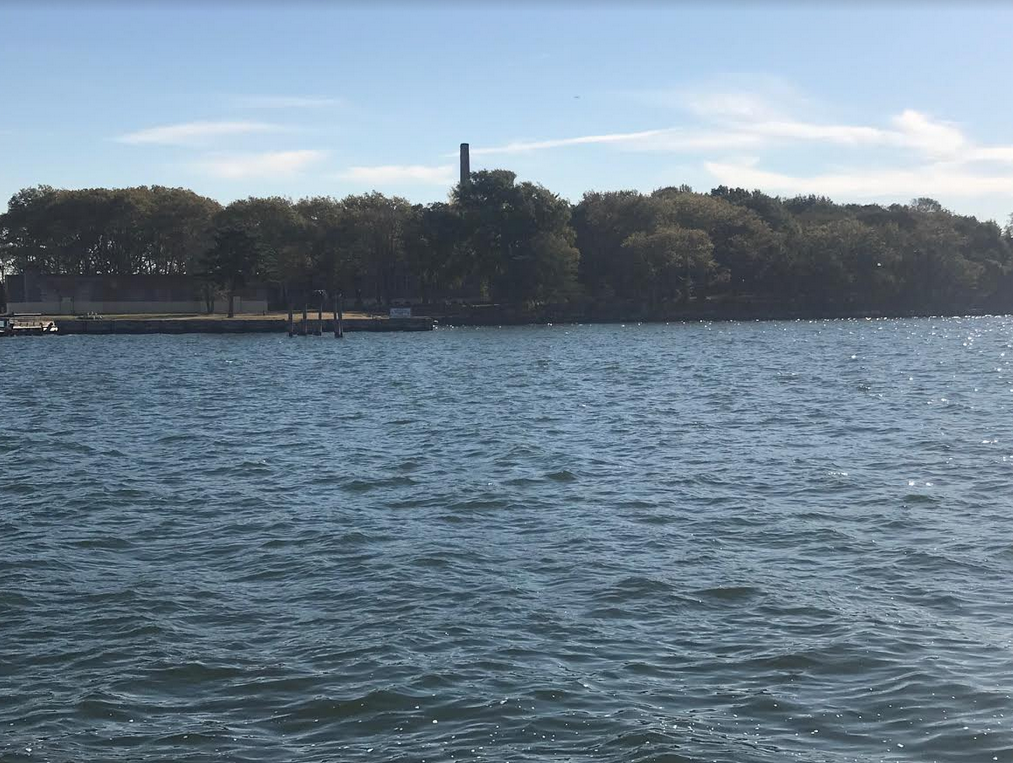 For the most part if you end up on Hart Island, it is because things have gone terribly wrong. I recently had a rare opportunity to visit Hart Island with restricted access in October 2017, but fortunately my visit was of the brief and curious kind.
In the past, Hart Island has variously been used as a tuberculosis sanatorium, a Union Civil War Camp, a women's insane asylum, and a boys' reformatory. It was also used to launch missiles during the Cold War in the sixties from the Nike Missile Site, and it housed a rehab facility called Phoenix House in the sixties and seventies. And it has been and continues to be used as a potter's field.
On many of our Boroughs of the Dead tours, we discuss potter's fields, especially with regards to City Hall, Washington Square Park, and Bryant Park and we are often asked what is a potter's field? Essentially, a potter's field is a paupers' grave for anyone who cannot afford a cemetery burial. But historically, during epidemics New York City has also used Potter's Field for both rich and poor to bury the mounting dead; for example in 1799 during a yellow fever epidemic in the city, a law was passed in which ANYONE with yellow fever had to be buried in the potter's field in Washington Square Park. The term potter's field is Biblical in origin, essentially referring to the ground where clay was dug for pottery, and therefore was not an appropriate or useful place for farmland, but rather an appropriate place to bury the dead.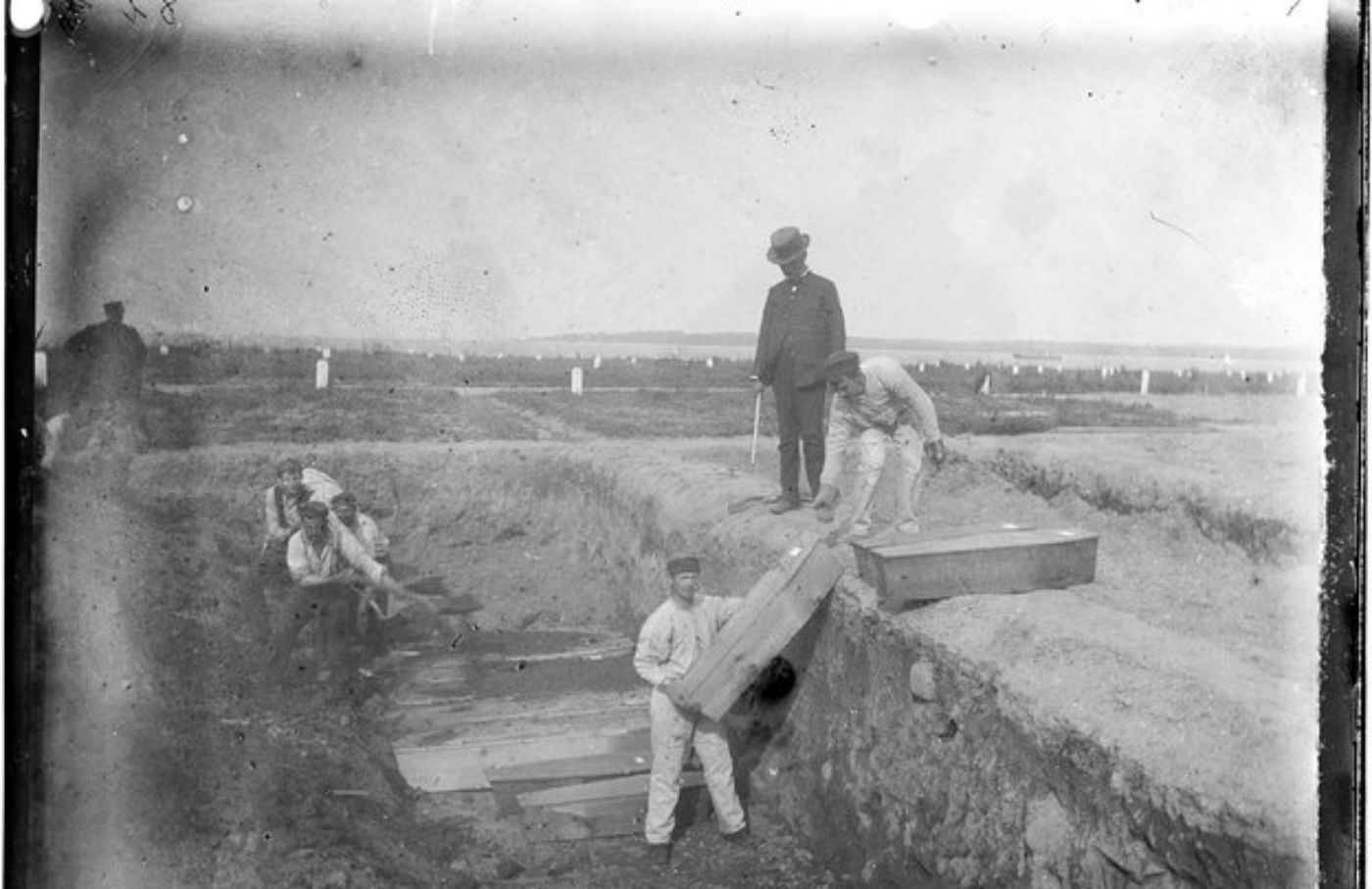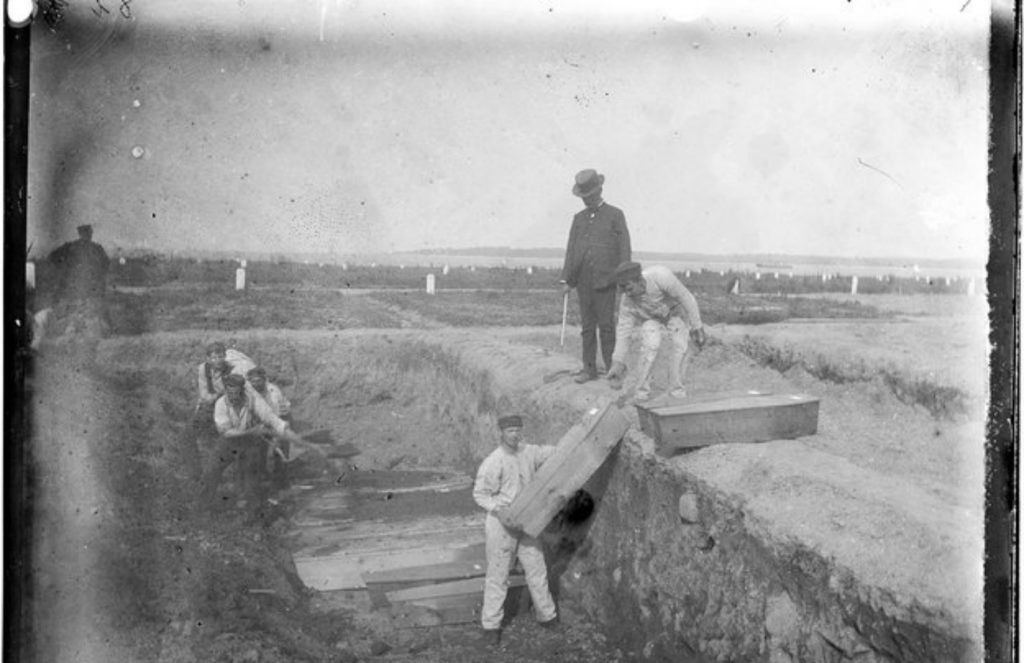 Hart Island is our present day potter's field. It was established as a potter's field in 1869 for those persons who died indigent or whose bodies went unclaimed. In the first year, 1,875 burials were performed. These days, bodies that go unclaimed within seven days, those who can't afford burial, and stillborn infants whose parents sometimes unwittingly sign for a "city burial" are buried on Hart Island. About a year ago, The New York Times wrote a fascinating and heartbreaking story on the families who end up searching for the bodies of their loved ones on Hart Island. In 2013, the Department of Correction, the agency that runs the island, launched an online database for the island's burial records that allows families to discover whether or not their loved one has been buried on Hart Island. Many records from the more distant past though have been lost in fires.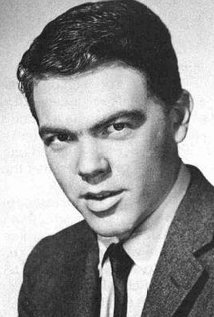 One of the most famous burials on the island was Bobby Driscoll, a child actor whose life took a turn for the worse when his acting career began to decline in his twenties and he turned to drugs. In 1968, the penniless Driscoll's lifeless body was found in a deserted tenement in the East Village. The medical examination determined he had died from heart failure caused by an advanced hardening of the arteries due to his long-term drug abuse. When Driscoll's body went unclaimed, he was buried in an unmarked grave on Hart Island. Nineteen months later, Driscoll's mother sought the help of officials at the Disney Studios to contact her son in the hopes of a reunion with his father, who was nearing death. This resulted in a fingerprint match at the New York City Police Department, who located his burial on Hart Island. Driscoll's name now appears on his father's gravestone at Eternal Hills Memorial Park in Oceanside, California.
Hart Island is now maintained by prisoners on Riker's Island. Hart Island is situated in the Bronx, west of City Island. Some sources indicate that "hart" refers to an English word for "stag," other sources claim the island was given the name when it was used as a game preserve. Some have observed that the island is in the shape of a stag's hind leg.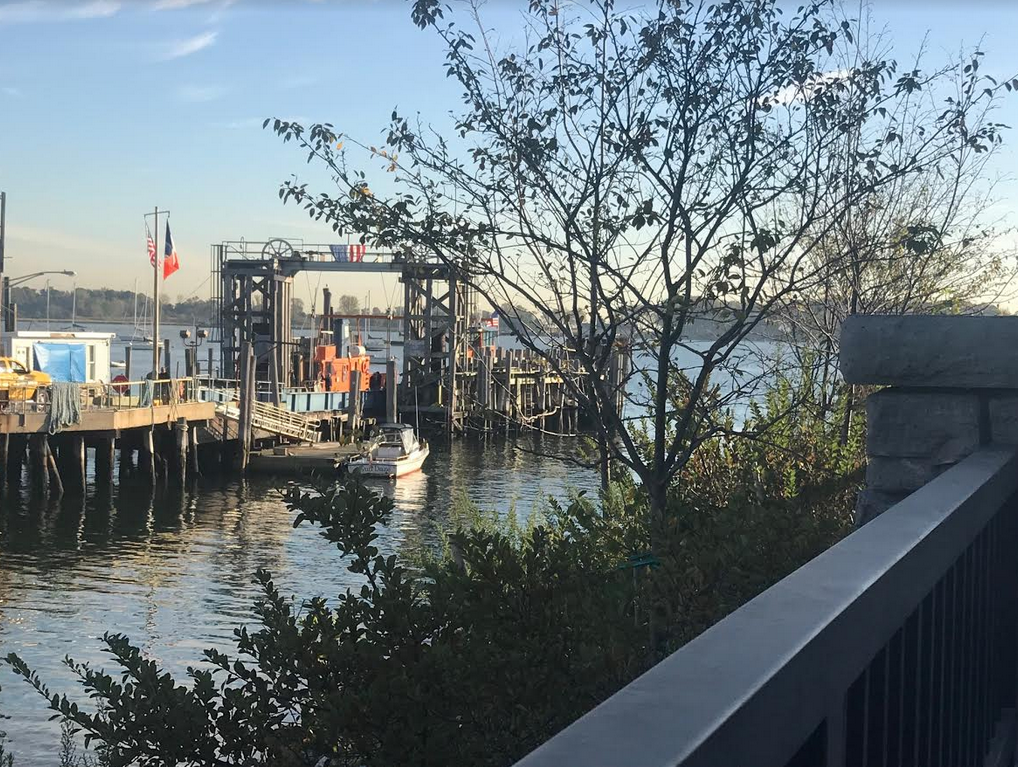 On the day of my visit in October 2017, our guide was Corrections Officer Thompson. In 2007, the Bronx-based grassroots organization Picture the Homeless was granted limited visitation rights to Hart Island. While family members can now research records online and arrange visits via application, non-family members can access a small gazebo area on the east side of the island every third Thursday of the month. Before taking off for our trip, Officer Thompson showed us the new granite slabs that are being made to mark the trenches of the potter's field. After that, we had to leave our phones and any other electronic devices behind. Photographs are not permitted on Hart Island.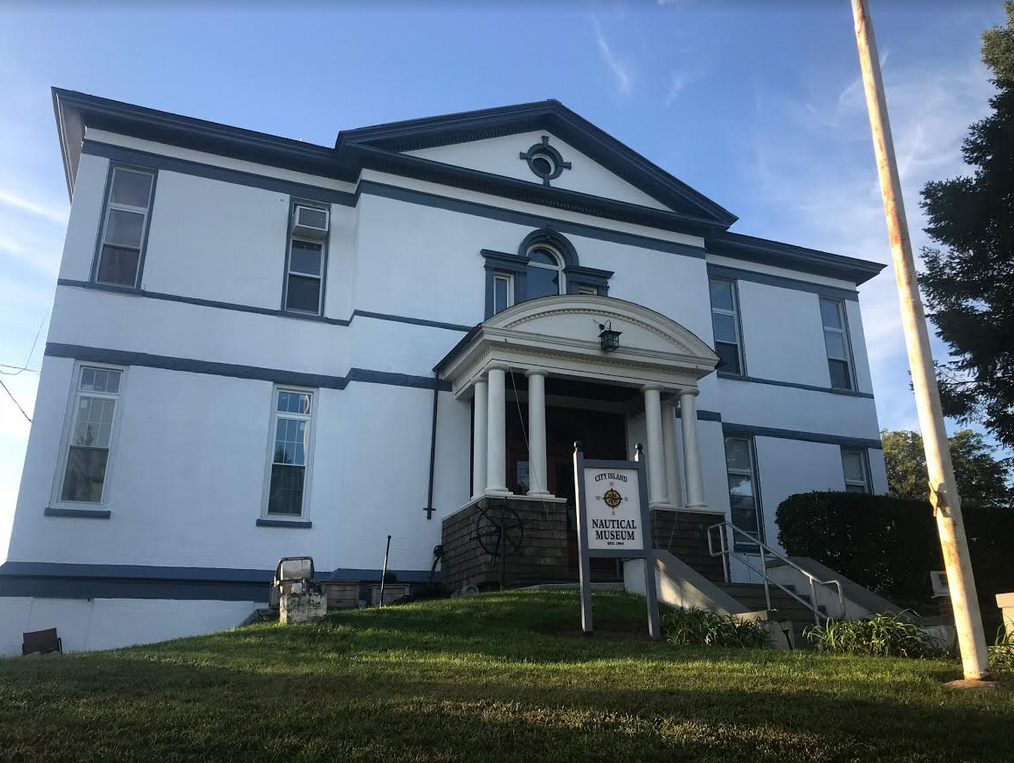 Our trip took off from City Island which, in contrast to Hart Island, is a picturesque fishing village in the Bronx with a nautical museum, the Royal Tenenbaums' summerhouse, and Pelham Cemetery which overlooks Hart Island. On the way, Officer Thompson pointed out Rat Island, a privately owned 2.5-acre island that is mostly Manhattan schist bedrock. It was bought by a City Island resident for approximately $160,000 in 2011 and the owner recently put a statue of William Tell on the island.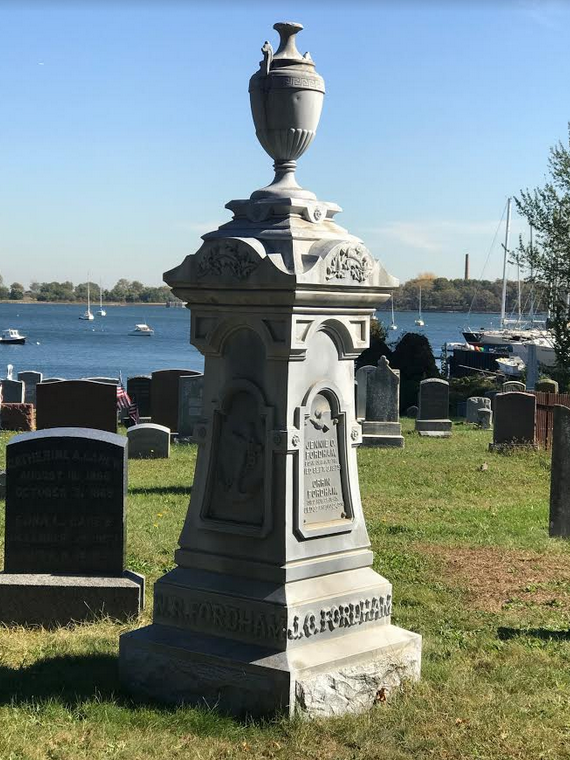 Reaching Hart Island on the Department of Transportation (DOT) boat, we could see the ruins of an old admin building, the Hart Island church built in the 1930s, and the former women's insane asylum. Leading up to the gazebo area were white angelic statues and by the gazebo was a small garden with a granite tombstone.
The moving and fitting poem on the tombstone read: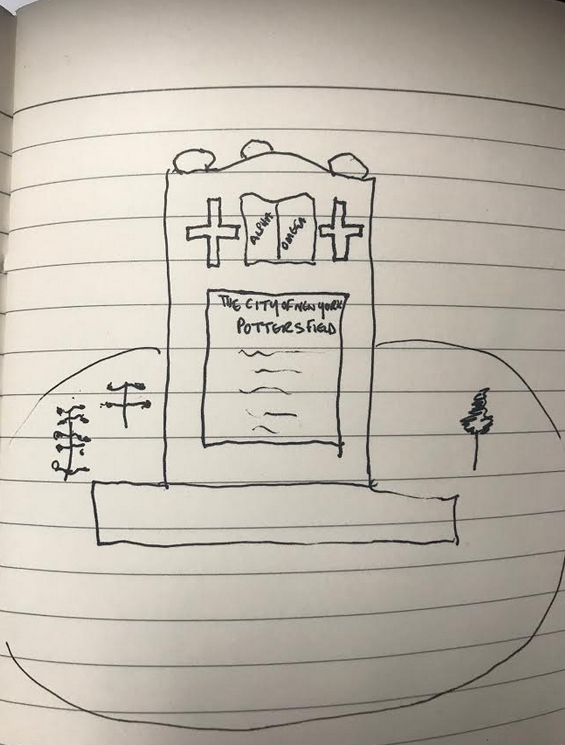 The City of New York 
Potters Field
Blessed are the poor
In spirit for theirs is
The kingdom of heaven
My child
Peace I leave to you
My peace I give to you
The almighty
Has his own purposes
He must have loved them
He made so many of them
Cry not for us
For we are with the father
No longer do we cast shadows
On the ground as you do
We are at peace
*
The land on Hart Island is flat and peaceful and affords beautiful views of City Island and Throgs Neck Bridge. Our officer told us that the prisoners who conduct the burials are serving small sentences, a maximum of one year for non-violent crimes. They work hard at their jobs earning 50 cents an hour and it's considered a plum assignment at Riker's where the prisoners get a rare opportunity for fresh air and to work in the outdoors.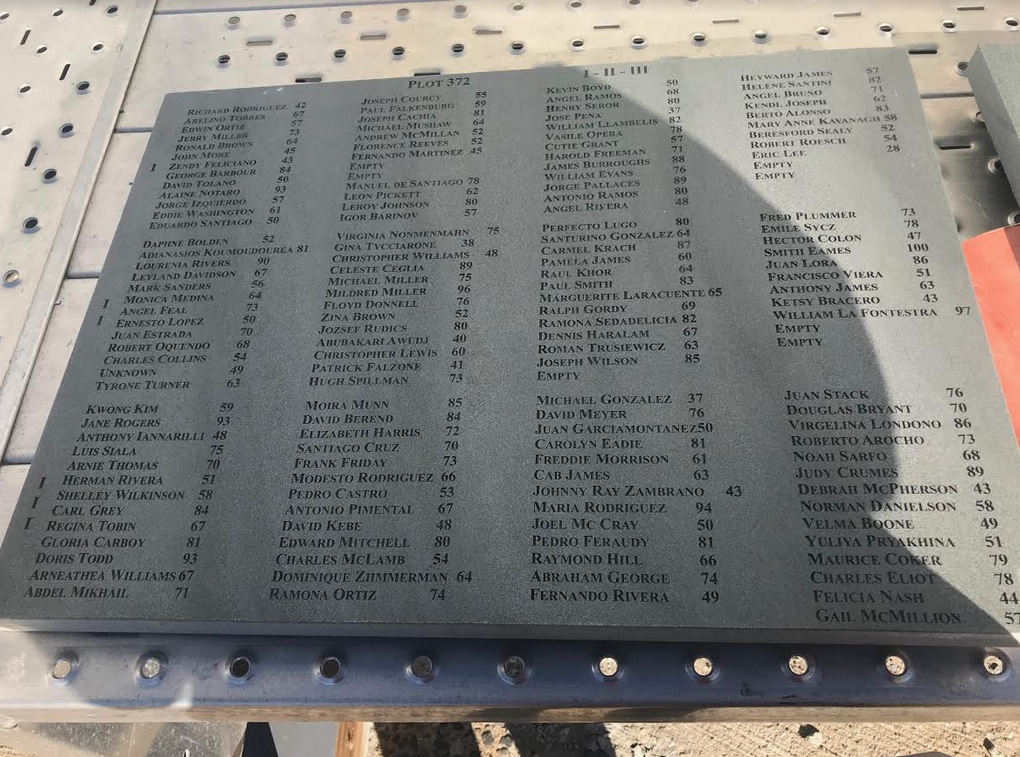 Showing us a map of the island, Thompson pointed out there is a peace monument on the northern tip of the island for World War II and a Civil War monument on eastern side.
I asked Officer Thompson if it was true that one million bodies were buried on Hart Island. "I don't understand where that number comes from. Whenever I try to do the math, it doesn't make sense." He also noted that burials go through waves. Right now the burial count is on the lower end of the spectrum with approximately twenty-five burials a week, but during the eighties when there were numerous drug overdoses for example that number would have been much higher. Trenches are about ten feet deep, three-people high in rows of six for adults.
After forty minutes of viewing in the gazebo area, talking with Officer Thompson, and paying our respects at the tombstone with flowers and rocks, we went back to the boat. The air was calm and still, though the hectic pace of the city could be viewed from the distance, the island itself was a bastion of tranquility, the perfect site for eternal rest.