I would be remiss if we let January slip by without celebrating him. His birthday, January 19th, is celebrated by horror fans everyone, including the mysterious "Poe toaster," who used to show up every year on his birthday and toast to him beside his grave. Unfortunately, he has not been seen in recent years. Perhaps he has joined "Eddie" in the land beyond. In honor of Poe's 204th "birthday," we're writing up a few of the myths and facts about one of our favorite authors.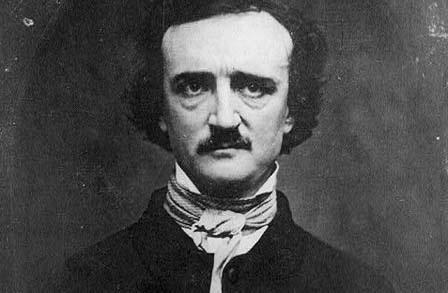 The Stuff of Legend
Poe was born in Boston in 1809 and his brief life — he only lived to the age of forty — has long been the stuff of legend… and rumor. The myth often overshadows the facts, what little of them we do know. We do know, for example, that Poe was an orphan by the age of two and that his parents were actors. We also know that he lived with an adoptive father, John Allan, until he was eighteen, and that they had a terrible falling-out just before Poe came of age. Up until that point Poe had been raised and educated as a gentleman, so it was a terrible shock to him when, after fighting with Allan, to discover he'd been disinherited and cut off without a cent.
Poe's desultory attempts to earn a living, from a stint at West Point and a dalliance (unrequited) with Civil Service, yielded nothing, and eventually he turned to the only thing he could do: writing. He'd always had a flair with his pen and so he began a frustrating career as a writer and editor, eking out a living editing various papers in Philadelphia and New York. He tended to bounce from job to job, never staying long, as he had trouble with authority and taking orders. His attempts to start his own newspaper, The Broadway Journal, met with moderate critical success but was ruinous financially, and so he had to close it. He struggled to keep his little household together and lived in dire poverty for most of his adult life. On top of everything else, his young wife, Virginia, was consumptive and needed constant care. When she died in 1847, the Poes were living on Fordham Road in the Bronx. It was their last home in New York, where they had lived on and off for about nine years. Shortly thereafter Poe himself died, in Baltimore, in 1849.
The Death of a Beautiful Woman
Many critics have noted that Poe's life was marked by the loss of women he loved, a theme that occurred repeatedly in his writing. Having suffered the loss of his mother, Poe was haunted by the idea of a young, sick, beautiful woman, especially when he was forced to witness the illness of his "little wife" (a nickname earned in part by Virginia's delicate stature and in part by her age: she was thirteen when they married while he was twenty-seven). This obsession is reflected in his heroines: Ligeia, Berenice, Lenore, and Madeleine Usher.
The myths surrounding Poe are many. Legend has it that the man was an inveterate drunk, dark, moody, completely mentally unstable, and had many dalliances with other women. It's difficult to separate the myths from the facts, partly due to a sensationalistic posthumous biography published by one of his enemies in life, Rufus Griswold. Certainly Poe was a divisive character while he lived, and had as many enemies as friends, in part due to his volatile, high-strung temperament. Yet he also had his champions: his wife and mother-in-law both doted on him, and the French poet Baudelaire lovingly translated his work into French and proclaimed him one of the greatest poets who ever lived. Nowadays, of course, he is acknowledged as the granddaddy of the horror and mystery genres.
Poe Tours in New York City
To learn more about Poe, you can check out the blog The World of Poe (see the links section for scholarly and biographical books and articles) as well as the Poetry Foundation's webste. You can also visit the Poe Cottage in the Bronx. If you happen to be visiting Richmond this week, don't miss the festivities at their Poe Museum. Baltimore and Philadelphia have Poe museums as well and, of course, I offer Poe tours nearly all the year round.
So don't forget to break out your quaint and curious volumes of forgotten lore this January 19 to remember one of our favorite writers and favorite ghosts.