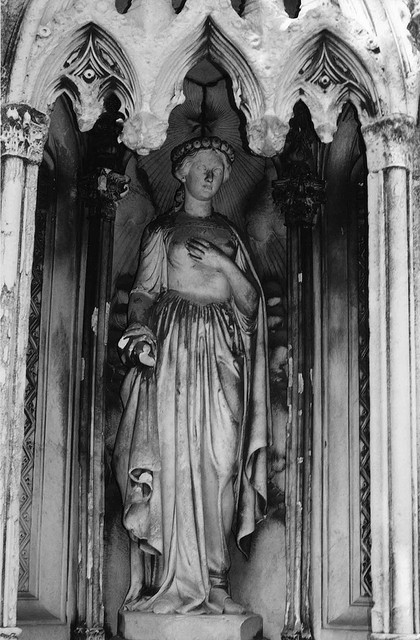 The story of Charlotte Canda isn't technically a ghost story, but it's an eerie tale of love and death in Victorian New York, which makes it the perfect thing for the upcoming weeks — for those who like their Valentine's Day with a Gothic twist, that is.
Charlotte Canda was a Victorian-era debutante who lived in New York City. She died in a tragic accident on February 3rd, 1845: her 17th birthday.
According to the historians at Green-Wood Cemetery, where she is interred,
The story of Charlotte Canda and the creation of her monument is a true Victorian drama, filled with tragedy, symbolism and beauty. Charlotte was the only daughter of Charles Canda, a Frenchman who had served as an officer in Napoleon's Army and later emigrated to America.
On Charlotte's seventeenth birthday, as she was returning home from her party in a storm, she was thrown from a carriage when the horses bolted. She died in her parents' arms shortly after the accident.
Her tomb is an exquisite "richly carved Gothic Revival structure in the form of a tabernacle [and] an open, arched canopy flanked by two slender spires contain a portrait statue of the young woman wearing a garland of seventeen rose buds representing the years of her life," though when I look at it it seems more to resemble the bed of a Sleeping Beauty in a fairy tale than a tabernacle. I can imagine her slumbering there, frozen in time. (She'll never wake to her lover's kiss, though; in a sad post-script, "her fiance Charles Albert Jarrett de la Marie, a French nobleman, took his own life out of the grief of losing Charlotte. He is buried in the adjacent plot marked by an elegant headstone bearing his coat of arms.")
Victorian-era New Yorkers were quite taken with the tragic tale of the beautiful Charlotte, and her grave became a major tourist attraction. I can certainly understand why; her story is captivating and the monument itself is arresting. Most incredible of all is the designer of her monument: Charlotte Canda.
Yes, that's right. Charlotte Canda designed her own grave.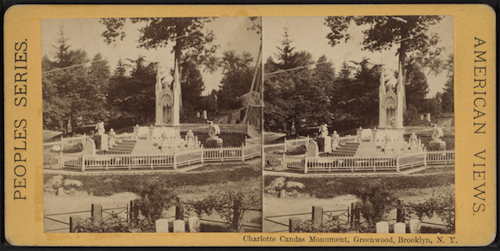 The artistic Charlotte had been designing a monument for her recently deceased aunt and had sketched the ideas for it on paper. Her father adapted the design concept and personalized it for Charlotte by adding her initials, musical and drawing instruments, books, sculptures of her pet parrots and other symbolic details. The concept featured a niche containing a portrait statue of Charlotte with a star above her head symbolizing immortal life.
When I first read this, I was so taken with the concept of the pretty girl who made her own grave that I decided to immortalize her in a story. I did so in "A Fitting Tribute," a ghost story of Victorian New York. I wrote it in tribute to Charlotte, who will not be forgotten as long as obsessive writers live next to Green-Wood. The real story of Charlotte will linger in your mind. (My fictionalized version is scandalously inaccurate, but don't let it fool you.)
Happy birthday and seventeen pink rosebuds to you, Charlotte.