We all love New York City during the holidays, but certain activities have become slightly shopworn. Once you've gazed in department store windows, seen holiday trains, gawked at obscenely enormous trees, and wobbled around a tiny, overpriced skating rink, what else is there, really? Plenty. Boroughs of the Dead offers several alternative holiday activities in NYC, perfect for New Yorkers and tourists alike.
Christmas Ghosts
First off, you can discover the stunning connections between New York City history and pretty much every single holiday tradition that American currently holds dear, as well as learning about the strange kinship between ghosts and Christmas with Boroughs of the Dead's annual Ghosts of Christmas Past tour. There are few better ways to learn about the history of a city than on a ghost tour — really! — and this tour ups the ante by mixing in a thoroughly comprehensive history of Christmas as well! Not to mention there are plenty of true ghost stories along they way, all located in the festive atmosphere of the East Village, decked out for the season. As an added bonus, guests on the Ghosts of Christmas Past tour will receive two-for-one admission to the Merchant's House Museum, which currently has an exhibit devoted to a 19th century Christmas.
Private Ghost Story Reading at the Player's Club
For those taking the December 19th version of the Ghosts of Christmas Past tour, another special gift awaits them: a reading of classical ghost stories by M.R. James and F. Marion Crawford at the legendary Player's Club, a private club on Gramercy Park that is normally closed to members of the public. This may be your only chance to experience ghostly tales inside a renowned, beautiful (and allegedly haunted!) setting. If you thought Christmas and ghosts didn't go together, these spirited events will surely change your mind!
Winter Solstice Tour of Central Park
Not unique enough, you say? My, aren't you jaded! Well, what about a winter solstice edition of The Magic & Mysticism of Central Park? A park that's been viewed a thousand times, a thousand different ways, takes on a completely new meaning with this magical winter-time tour that elaborates on the spiritual, mystical, and hidden symbols and histories of the city's verdant crown jewel. Recalibrate your experience of this urban space by re-imagining it as a scared open space, on one of the most magical days of the year.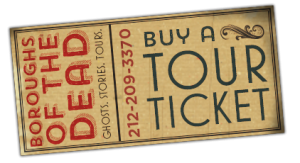 Tickets for all of these events can be found here. Advance registration is recommended for all of them, and required for the December 19th tour and reading at the Player's Club.