There are several Titanic-related grave sites at Brooklyn's Green-Wood Cemetery. (There are lots at Woodlawn, too.)
One of the saddest is the grave of little Douglas Spedden, best known as the little boy in this photo: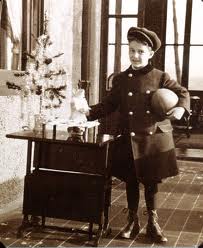 When Douglas saw the icebergs after boarding a lifeboat, he reportedly exclaimed "Oh, look at the beautiful North Pole with no Santa Claus on it."
Douglas survived the sinking, but met his death only a few months later — he was hit by a car while playing in the street. His grave is small and has no mention of his association with the RMS Titanic, so it's easy to miss if you're not eagle-eyed: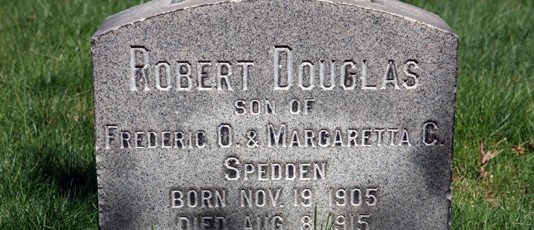 Wyckoff Van Derhoef died in the sinking, as noted on his headstone below: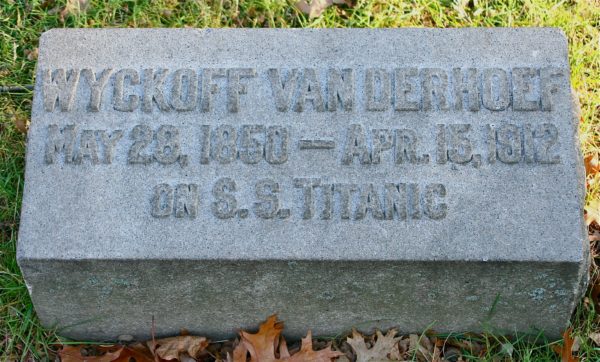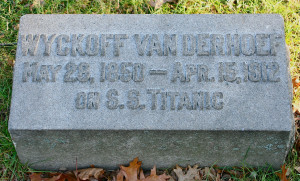 Mr. Van Derhoef was a well-off businessman returning from holiday in Europe in first class. His body was later picked up by the MacKay Bennett.
His cenotaph (a marker for a person who is not physically buried on the site) is located next to the mausoleum of George Harder. Mr. and Mrs. Harder are also quite well known as the result of being in a famous photograph:
This photograph was taken the day after the sinking, aboard the rescue ship Carpathia. The weeping woman they're speaking to is Clara Jennings Hays, who lost her husband in the sinking. Mr. and Mrs. Hays were traveling as personal guests of Bruce Ismay. When she was asked later if she would sue the White Star Line she retorted, "When one is a guest, one does not sue one's host." She is buried not in Green-Wood, but in Mont Royal Cemetery in Montreal.
Another cenotaph can be found in the northeast corner of the cemetery:

William Augustus Spencer was a wealthy New Yorker and another first-class passenger. His body was neither identified nor recovered. The line "Where manhood perished not" is of course a reference to the gallantry displayed (for the most part) by the men aboard the Titanic. The poem was written by Harvey P. Thew to memorialize the disaster:
Where cross the lines of forty north and fifty-fourteen west,
there rolls a wild and greedy sea with death upon its crest.
No stone or wreath from human hands will ever mark the spot.
Where fifteen hundred men went down, but Manhood perished not.