In 1933, journalist Helen Worden of the World-Telegram decided to take a jaunt. With her friend Ruth Steinway in tow, she circumnavigated the waterfront of Manhattan island, and wrote it all up in a pithy little number called Round Manhattan's Rim. This Depression-era travelogue is a wonderful curio that opens up a vintage Pandora's-hatbox of questions, from "What is a B.E.F.?" to "Where on earth was Spanish-town," and "When did the Seaport stop being painted in bright colors of blue and white?" For any NYC history buff, this trove of forgotten pockets of the city long since disappeared is an incredible thrill; that goes double for an NYC history buff with any special love of the water and waterfront life. And the little unassuming moments during which it becomes especially clear that this book was written in another era create a second layer of history — this is a nostalgic text written in a time already past.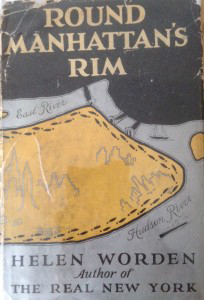 "Romance and adventure lie on the waterfront of a great city.
In the middle, up-to-date buildings obliterate early landmarks. On shore-line streets, you will find the past as well as the present, see the ever-changing character of the town and meet the pioneer types of a frontier civilization…
The Battery is familiar to those who have watched it from ferry-boats and ocean liners, contacted it by occasional visits to the Aquarium, and strolled along its wall on summer days.
But it is one of the few New York water-front localities that is known. How many have seen East Marginal Street with its wind-swept spaces? Who can tell where Jeffrey's Light is, and where would you go to fish for striped bass in Manhattan waters, or set crab traps off the rim of the most important city in the world?"

So much of Round Manhattan's Rim is pure gold, so endlessly fascinating and arresting in its excavation of a lost world, that to really do it justice I would have to reproduce the entire book here. The next best thing is to pluck out a few of the highlights that particularly grabbed my attention, and encourage you to hunt down a copy and do some exploring with Ruth and Helen on your own. But first, a brief overview of their walks, and how they did them.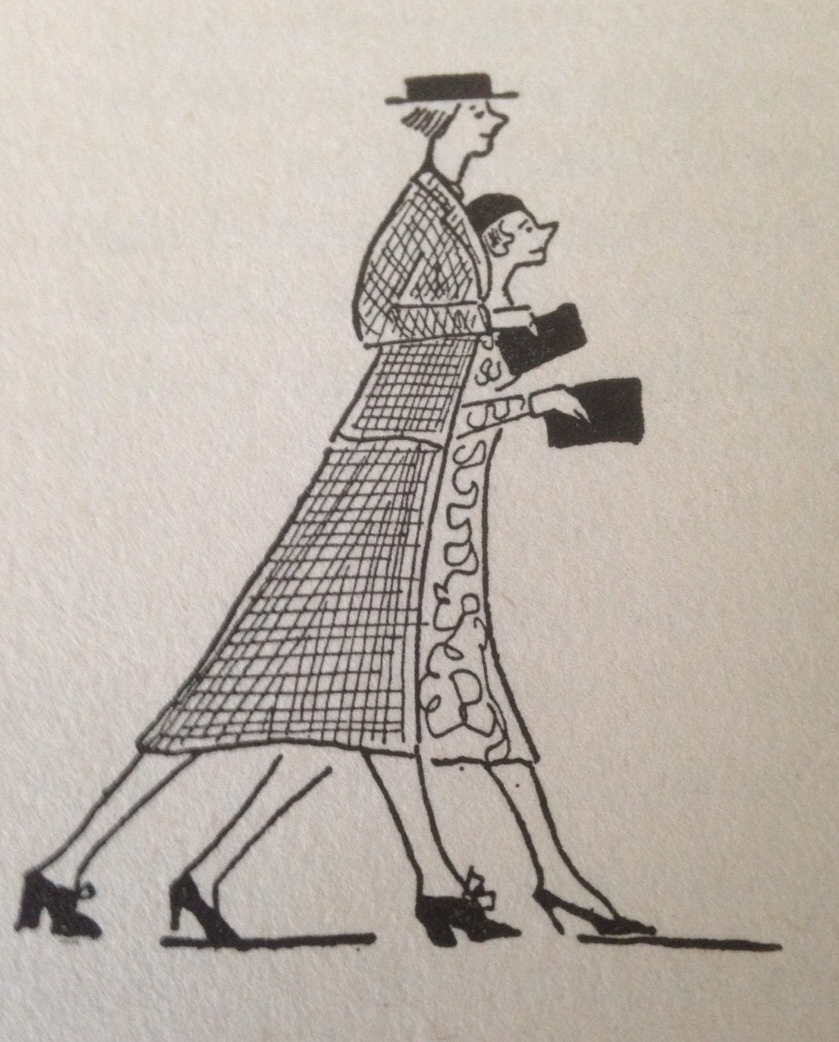 The Seaport
They began in May — May 22, 1933, to be exact — and finished in December of that year. The island was circumambulated in a series of ten non-consecutive walks, mostly in May, June, and October (hot summer months and cold late-autumn months were not, the author observed, ideal for walking; I can back that observation up).
Their first walk took them to the beginning, to the southern tip of the island, beginning at South Street, heading northward to Corlear's Hook. This is how Worden describes South Street:

"South Street, in the shore side, is lined with houses that were in existence during clipper-ship times. Sailors from every port in the world bask on its pavements in sunny weather, and quaint little shops peculiar to nautical neighborhoods nestle along its sidewalks.
It is full of color. The Spanish and Portuguese see to that. Bright blue paint is slicked over window-sills and doorways. Vivid scarlet geraniums fill rickety balconies…Against the weather-beaten red-brick walls of the old houses, this helter-skelter mass of color is primitive in its lushness."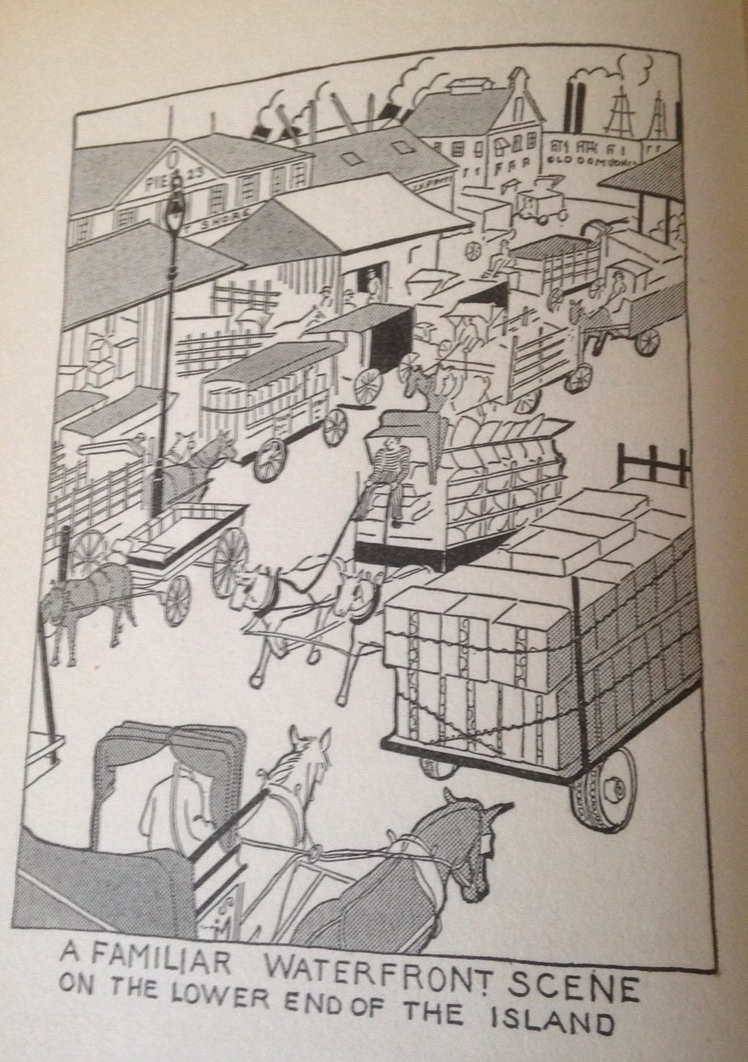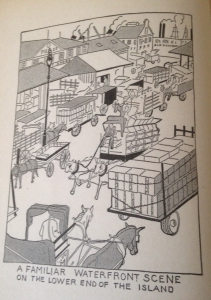 This is intriguing to the modern reader of course, who no doubt will wonder where on earth this picturesque scene possibly went to. Whither the Spanish and Portuguese sailors? Whither the sailors, for that matter. Worden provides the hint of an answer when she speaks with some of the captains of the barges docked along the shore, who remain in idleness while long-haul truckers grab bowls of clam chowder between all-night runs:
"What hurt your business?"
"Trucking."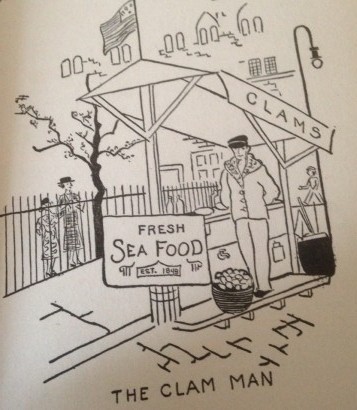 Moving up from South Street, Worden gets to a place called de Peyster Lane, which she describes as being near Fulton and Front Streets. On this site she describes a "grim, gray stone building," which was rumored to be a prison during the Revolutionary War. To verify this rumor, and to assess whether the uptown de Peysters owned it, they ask Miss Augusta de Peyster herself. "No indeed," she says. "I don't even know anything about the place." They are unable to determine whether the building ever was a prison, but they say it certainly looks as though it could have been:
"Strange tales are spun around the lonely structure. Solid iron shutters bar the windows. The walls are thick. Some say that it is used as a warehouse now, but that during the Revolutionary War, the British turned it into a prison and that in it died many a patriot."
They discover even more "romantic history" along the water-front, including a red-brick colonial house in which, they claim, Aaron Burr was living the time of his "controversy with Alexander Hamilton."
And then they move on, away from the Revolutionary-era prison and toward the office of A.J. Drummond at 47 Fulton Street. Drummond was a photographer "famed…for his court work involving the taking of finger-prints and murder scenes. It was his camera that switched evidence in the Halls-Mills murder case. And it is his camera which may turn the tide in the Wendell will lawsuit, which involves the old Scotchman, John Morris, now imprisoned on Welfare Island, since the court ruled that he had perjured himself in the Wendel trial."
It's for this kind of bizarre, forgotten, hyper-local history that I love Worden's book — not so much for her shaky grasp on 18th century history. That's not the point of this book anyway. You want to find out where Burr lived in 1804, look it up. You want to learn about an "old Scotchman" imprisoned on Welfare Island for perjuring himself in a trial you never heard of, read this book.
The Murder Stable
Another famous yet forgotten murder is dealt with in the chapter called The Murder Stable.
"While walking to the East River from Third Avenue at the start of their second walk, Ruth and Helen ducked into a "dark and gloomy stable" on Allen Street to get out of a sudden thunder shower.
It was dark and gloomy and silent. We shivered a little.
And then we stared at each other. "What is the number of this place?" Ruth Steinway asked.
I peeked out. "Fifty-nine Allen Street," I said slowly. "This is the stable where Mr. Ridley and his secretary were murdered?"
A kindly police officer named Joseph Fiduccia confirms that this is indeed the murder stable, and even escorts them into the dim recesses of the building, into the "dank sub-cellar" for an impromptu murder tour. Ridley was once a department store owner who, by 1933, when he was murdered, had become a reclusive hermit, rumored to have a fortune socked away:
"The Ridley murder is one of the unsolved mysteries of New York. The dead secretary, Leo Weinstein, was said to be an accomplice of two accountants, who confessed to plotting the robbing of Ridley's estate. They were sent to Sing Sing."

Worden doesn't elaborate on the method or further details or Ridley's murder, presumably because everyone at the time would have known them. (Ridley was murdered in May of 1933, around the same time at Ruth and Helen started talking their first water-front walk. This would have been a very fresh murder site indeed — no wonder they shivered!) But, again, the really good stuff comes when Worden speaks directly to a 1930s crowd:
"The Ridely stables are now in the heart of the brass shop district of New York. Five out of six stores on this street shadowed by the elevated deal in brass and copper."
Of course! The brass shop district, down by the elevated. It's where I get all my brass. Worden also assumes her audience knows what this refers to:

"Contemporary with Mr. Ridely is Mrs. John Heins' little frame house on East Fourth Street."
Oh to know what she's talking about!
Worden doesn't stop to explain, breathlessly moving on to a discussion of John Roach, shipbuilder. Nor should she. No doubt everyone reading this book in 1934 would have understood immediately these references. All part of the charm.
The East Side, Uptown Little Italy & the Rag Market
Worden breezes up the island, moving past the Municipal Lodging House at East Twenty-Fifth Street and the river, past the slaughter houses "in the First Avenue district," and the big apartment buildings at Turtle and Kip's Bay. She walks by Beekman and Sutton Places, and walks within sight of Welfare, or Blackwell's Island, Gracie Mansion, Wards and Randall's Islands — all sights familiar to modern New Yorkers. Then she gets to something long gone: the Rag Market at First Avenue and "Uptown Little Italy" at 116th Street.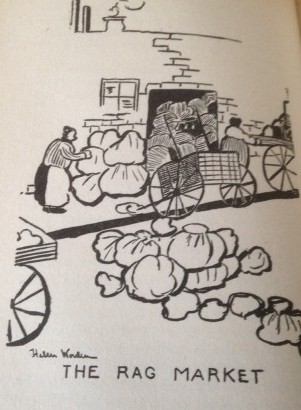 There she finds a "stiff, quaint little frame farmhouse" at 415 Pleasant Avenue, "with blinds half drawn in a manner that implies bitter resentment against the influx of Little Italy. The house belongs to Mrs. Hodges. She is an American, keeps lodgers, and traces her ancestry back to Colonial days."
"Mrs. Hodges's house maintained a determined silence in the babel that rose about it, on our June-day walk. Shouts of children at play in the streets, the clack-clack of feminine Italian tongues from fire-escape to fire-escape and the lilting notes of hurdy-gurdy and street carousels, made no impression upon Mrs. Hodges and her lodgers. A world undisturbed by the seething excitement that sometimes boils over in its vicinity. Strange stories have swept past Mrs. Hodges's house. There was the famous murder stable, for instance, in which thirty-four Italians met their death in a feud that even the police refused to interrupt."
At this point, the modern reader begins to become mildly concerned at the prevalence of murder stables in 1930s Manhattan.
Scratch Park & The Speedway
There's more scandal to be found uptown, specifically at Scratch Park at 129th Street and Park Avenue, where the "cheap rooming houses pour their backwash."
A patrolman Gavigan gives the park another nickname: "This is the Place Where the Derelict Follies Girls go," he says, and the resentful eyes of the women in Scratch Park, staring at Helen and Ruth, confirm that. "A strange crowd they were — with their wispy hair, seared faces, and dirty clothing. Some date back to the Bowery days."
The women move on from Scratch Park toward the site of the former Speedway, already a relic in 1934: "From around 1880 to 1908," Worden writes, "the Speedway was thronged with little sulkys driven by by nifty gentlemen sporting burnsides and broad-brimmed gray felt hats."

Worden says she would like to re-live the Speedway days, as "it is very closely linked with my childhood days, because of a friend of our family, Michael Reid, a trotting horse fan." She scatters more childhood references through the pages dealing with the north end of Manhattan, including one really spectacular memory about Mr. Mathews, the soda fountain man:
The house that stands out in my memory is that of Mr. Mathews. His residence held a peculiar fascination for me as a child. It was a rambling light brownstone mansion and it stood on the corner of Eighty-Third Street and Riverside Drive.
Rumor swept round among the children of the neighborhood that Mr. Mathews had installed a private soda fountain in his own home. None of us knew him, although we longed to make his acquaintance. I lived at 588 West End Avenue. Whenever my family missed me, they eventually located me in front of the Mathews house, trying to learn further details about the soda fountain. 
Richard F. Carman Mansion
The halfway point of Helen Worden's journey is the old Richard F. Carman mansion at 175th Street and the Harlem River:
"It is a curious, frame, gable-roofed building, suggestive of the former grandeur that clings to the side of the Heights. The Department of Parks owns it now.
Carman was a real-estate magnate who flourished in Civil War days. At one time he owned the building now the property of India House [on Hanover Square]. At his death he was said to be worth $8 million….
Perched high up on the cliffs, the homely ornate Victorian residence is distinctive enough to be preserved. I wish that the city might convert it into a museum of the period which it emulates.
We rested a while on the front steps of the Carman house. The main entrance faces west and the heights. The back porch overlooks the Harlem River. I imagine that the trees which shade the old-fashioned heart-shaped drive are those planted by the Carmans, and that the landscaping of the grounds remains much as it did when they occupied the house.
The interior has not been changed. The same elaborately carved white and black mantelpiece, high ceilings, minutely designed frescoes and winding staircases are there…"
I thought this was a particularly interesting passage, since there is some debate about where Carmanville actually was, and many historical sources place it on the west side of Manhattan (whereas of course the Harlem River is on the east side). I also enjoyed her mention of Poe and the High Bridge:
"The former Carman home can easily be seen from the Speedway. It is reached by a steep and winding road, just beyond High Bridge…
Edgar Allan Poe used to pace back and forth on it, gazing moodily down upon the water far below. They say that many of his poems were composed here.
If he had been with us that hot July day he might have been moved to spin a poem around the magnificent yachts at anchor in the ship basins across from the Speedway at 192nd Street."
Patchtown & The B.E.F.
Helen and Ruth continue all the way up the island, even as far as Inwood, Fort Tyron Park and the Cloisters, and Washington Bridge (where they finally find Jeffrey's Hook lighthouse). They swing back down around the North or Hudson River side, and encounter the legendary B.E.F. villages that I personally associate with certain NYC-set movies of the 1930s. Worden describes the "Rube Goldberg shacks" of "Patchtown" on the banks of the Hudson, and finally explains what B.E.F., an acronym she's been dropping pretty freely throughout the book, actually means: Bonus Expeditionary Forces.
"From Dyckman Street down to Seventy-Ninth Street, the tiny one-and-two room huts snuggle against cliffs and beach. The homeless people who have taken possession of these lonely shacks or built then are not of the flop-house variety. The majority are eager, energetic and courageous human beings who have suddenly found themselves without money or work… They all had a plucky attitude, these Patchtown folks."
Worden contrasts the "patchwork cottages just below Grant's Tomb" with the large apartment houses that line the sweep of adjacent Riverside Drive:
"The people who live in the big apartment-house at 33 Riverside Drive were interested in the gay little shanty town that sprang up like a multi-colored mushroom at 75th Street and the Hudson River in 1932. From the windows of George Gershwin's former penthouse at number 33, with the aid of a spy-glass, every detail of the strange village could be clearly seen…When it first appeared, gossip rocked number 33 concerning the meaning of the settlement."
Worden writes that "the camp was a beehive of activity with everybody making ready for cold weather when we called." She describes the unemployed architect who drew up plans for the camp, and the use of discarded mahogany wood from — of all places — the old Bank of the United States at 79th Street and Broadway.
"We'll sure be snug this year," they said.
Back to the Battery
They continue southward along the west side of Manhattan, stopping in at a Turkish candy shop at 53 Washington Street, in the neighborhood once known as Little Syria, and they finish where they started, in Battery Park, quite suddenly, and rather surprised that they had done it:

"No Grover Whalen committee of welcome greeted us as we put our feet in Battery Park that fifteenth day of December, 1933.
"We've actually done it!" exclaimed Mrs. Steinway. "I wish we were starting all over again."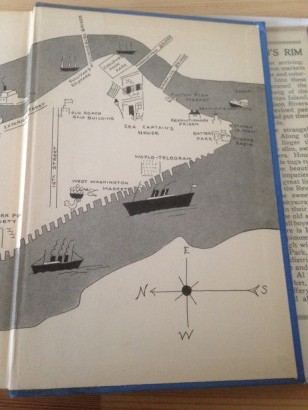 And Helen Worden can't help but feel proud of them here, overcome as she is when a ship called the Dalzella sounds a whistle in farewell as it pulls out of port — seemingly in farewell to Helen and Ruth themselves: "It was the salute of one friend to another. Mrs. Steinway and I had been recognized by a water-front veteran, an important citizen of the harbor — the tugboat. We were waterfront people."

She rhapsodizes, Melville style:

"Without pause, the ebb and flow of business and human life etches an intricate pattern on the water-front. Endless traffic — ships, cargo-laden; a painter turns to the river-front for atmosphere, the city's big newspapers comb the docks for stories — the stream of life stems on, moving, swiftly fascinating in its course.
"It it gets into your blood, you'll never get it out," Captain Gully's words rang in my ears. "Ye'll always be following the water front."