Periodically, we like to run profiles to showcase the hard work of New Yorkers who are dedicated to the history and archaeology of this city. Mary French runs the NYC Cemetery Project, an incredible blog that actually has real writing, and information, and images — not just clickbait "content." In this world, it's a rarity. We tip our cap to Mary, who is doing amazing work sharing the histories of some of the city's overlooked cemeteries, and a few that might be well-known, too. Be sure to check out the NYC Cemetery Project here.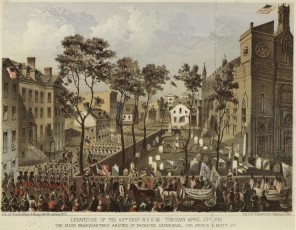 Boroughs of the Dead: On your blog you mention you're an anthropologist and archivist. Can you tell us a little bit more about your background and your current work?
Mary French: I have masters degrees in anthropology and in library science and have worked in various capacities in museums, archives, and other cultural and information organizations. I moved to NYC in 2006 for a job with the Cultural Resources Office of American Museum of Natural History. I'm currently doing freelance work.
BotD: What is the driving impulse that led you to create the NYC Cemetery Project?
MF: I've always enjoyed visiting cemeteries, for the stories they tell and for their natural and artistic beauty. When I moved to NYC I began exploring the city, coming across various cemeteries and learning about ones that had been removed or built over. I'm very much a "why?" person, always curious about why thing are the way they are, and I started wondering why some cemeteries were preserved and others lost, who are these people that are buried in this cemetery and why are they buried here and not somewhere else, how the cemeteries had changed over time, etc. I couldn't find a good book that really had the information I was looking for, so I started doing the research myself with the intention of writing my own book someday. It turned into an enormous undertaking that I knew would take many years to finish, so I began the blog to start sharing my work with others.
BotD: How many cemeteries have you personally visited in New York City?
MF: I've visited about 70 cemeteries in NYC, mostly based on their proximity to where I was living at the time (first Manhattan, then Queens, and, presently, the Bronx). I've been to only a few in Brooklyn and none in Staten Island.
BotD: Where do you get your information from? The blog is so rich with details, and with your background I imagine you use a lot of primary source materials! I see a lot of fire insurance maps there. What other source materials do you use?
MF: There is really a multitude of sources I refer to. My starting point is usually the historical property maps, old newspaper articles, and local histories, as well as checking for images in the online photo databases of the New York Public Library and other organizations. I've looked through the files at many local historical societies and archives (e.g., the Queens Library Archives and the Bronx Historical Society), which sometimes have obscure pieces of information about cemeteries. There are also several cemetery directories from the late 1800s and early 1900s (Judson's 1881 The Cemeteries of New York, for example) that offer interesting details about some of the larger cemeteries. And then, depending on the type of cemetery, I will go to other resources, e.g., for Catholic cemeteries, there are sources like the 1899 article "The Catholic Cemeteries of New York" that offer good information. The list goes on and on!
BotD: What are your favorite cemeteries in NYC?
MF: One that was an early inspiration for this project is Mount Zion Cemetery in Queens, which I visited for the first time just a few weeks after I moved to NYC. I had never seen – and after visiting 70 NYC cemeteries later I still haven't seen – such a crowded cemetery. It has over 200,000 burials on 78 acres sandwiched between the Long Island Expressway and a NYC sanitation plant, and that claustrophobic environment is sort of symbolic of the living conditions that many of the Eastern European immigrants who are buried there would have endured as they settled in Manhattan and Brooklyn in the late 1800s and early 1900s. I feel it's a really great example of the city's social history reflected through a cemetery.
Another one that is special is Most Holy Trinity Cemetery in Brooklyn. Most of the gravemarkers there were made from hollow metal, but were painted to look like stone. Over time these metal stones crumpled and rusted and the paint peeled off – the result creates an unusual, somewhat eerie scene.
BotD: What overlooked cemeteries do you wish New Yorkers would know more about?
MF: Many of the tiny family and religious cemeteries are the ones that seem to be overlooked the most and it's a shame because they often have very unique stories to tell that are particular to their locality. I can't count how many times I've been photographing some small graveyard tucked between buildings in a busy neighborhood, and someone will stop and say "I've lived in this neighborhood my whole life and never knew there was a cemetery there." I remember one day in particular I was taking photographs of the Third Shearith Israel Cemetery on 21st Street in Manhattan and a number of people who had been hustling by stopped at various to look and ask questions. People are so busy they don't notice the history and stories that are all around them.