"He lived on Wall Street, a Turkish carpet on his parlor floor, casks of Madeira in his cellar. His tall house had scrolled dormers and fluted chimneys, which ships seeking New York moorage sought out as landmarks. A family man with two daughters, he owned a pew at Trinity Church." – William J. Board, New York Times
The name Captain Kidd evokes images of pirate lore — tall tales and taller ships, larger than life figures roaming the high seas, creatures of myth like Captain Morgan and Blackbeard (who were also real people), swashbuckling their way through the pages of history. Captain William Kidd is rarely synonymous with phrases like "Wall Street," or "Trinity Church" or even New York, and yet he was all of those things.
William Kidd was born in Scotland in 1645, became a sailor early in life, and had a long and successful career as a privateer. He didn't move to the then-British colony of New York until he was well into his 40s, after marrying Sarah Bradley Cox Oort, a wealthy widow. After he wedded dear Sarah, he would find himself possessed of real estate holdings that would make a modern broker salivate: according to Alexander Winston, author of the pirate history No Man Knows My Grave, Kidd owned properties at 56 Wall Street, 86-90 and 119-21 Pearl Street, 52-56 Water Street and 25, 27 and 29 Pine Street. His main residence was at 119-21 Pearl Street, which more or less corresponds to the modern intersections of Pearl between Wall and Hanover Streets.
For whatever reason, whether to keep up with the financial demands of keeping his wife and two daughters in society's trappings and finery or because he merely had "pangs for the sea," Captain Kidd obtained a new privateer's license in 1695 and took to sea again. His last voyage, on the Adventure Galley, proved ill fated.
Kidd crewed his ship under a "no plunder, no pay" policy, which was exactly what it sounded like. After a year or so of floating around the Indian Ocean with no spoils to speak of, his restless crew mutinied and in the ensuing scuffle, Kidd sort of beat one of his crew members to death with a bucket. (Well, as far as we know, this is more or less what happened. Historians are sketchy on the details; I got this account from A Maritime History of New York.) He then siezed a French vessel, was abandoned by most of his crew, and when he returned to the port of New York, he found himself wanted for murder and piracy on the high seas. At that time, piracy was not technically a crime in the colony, so he was brought to England for trial, and he was imprisoned in Newgate Gaol until May of 1701.
On May 23rd, 1701, Captain Kidd was hanged and gibbeted in London. The tale of his trial execution is the stuff of legend. He apparently showed up drunk to his own trial, and then on the day of his execution, the rope broke and he had to be hanged twice. According to the Newgate Calendar, he died "professing his charity to all the world, and his hopes of salvation through the merits of his Redeemer."
The Newgate Calendar goes on to indulge in a little judging of Kidd's immortal soul:
"Thus ended the life of Captain Kidd, a man who, if he had entertained a proper regard to the welfare of the public, or even to his own advantage, might have become a useful citizen to society instead of a disgrace to it. The opportunities he had obtained of acquiring a complete knowledge of the haunts of pirates rendered him one of the most proper men in the world to have extirpated this nest of villains; but his own avarice defeated the generous views of some of the greatest and most distinguished men of the age in which he lived. Hence we may learn the destructive nature of avarice, which generally counteracts all its own purposes."
Admittedly, the author has a point. If Kidd had only lived a quiet life and held on to all that property instead of carrying on.
The funny little button on this story is that Kidd apparently managed to stow away some treasure before being extradited back to England, supposedly on Gardiner's Island and elsewhere. Some say he even stashed a bit of it right here in New York harbor, on a harbor island that would have been well within sight of his stately home on Pearl Street: Liberty Island.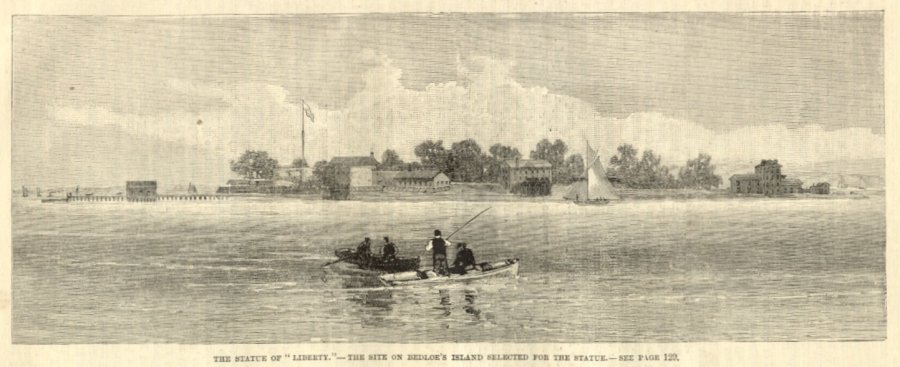 For more on Captain Kidd's buried treasure, take Boroughs of the Dead's Forgotten Dark Histories of Lower Manhattan walking tour.