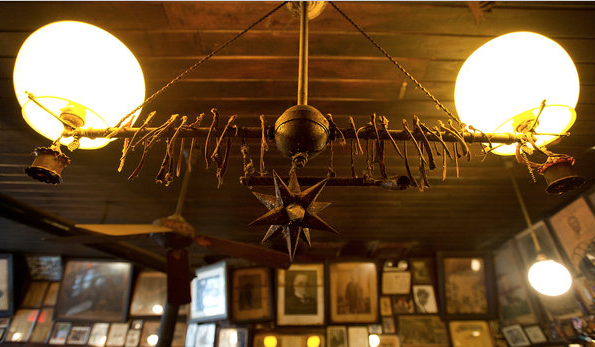 If you go down to McSorely's Old Ale House on East 7th Street, you might notice a strange looking lamp hanging above the bar. Atop this lamp hang the moldering, century-old wishbones of WWI soldiers who placed them there before heading off to war. According to New York legend, the bar would host a turkey and ale dinner for the Doughboys before they shipped out. The soldiers would place their wishbones over the lamp, and when they returned they would take them down, break them off, and make their long-awaited wish. The bones that remain are those of the soldiers who never returned from war.
According to Jef Klein in 2006′s The History and Stories of the Best Bars in New York, "Never dusted, never touched, the wishbones ensure that a part of these soldiers' lives will be remembered and their sacrifice appreciated, even while their bones may lie in forgotten graves." However, there are some who say this isn't true, that like much about McSorely's, it is merely legend and that the owner of the bar just really, really liked wishbones. Unless you were there in person one evening in 1917, it is hard to say for sure.
Whatever the case, on a day like today I prefer to believe the story.
…We are the Dead. Short days ago
We lived, felt dawn, saw sunset glow,
   Loved and were loved, and now we lie
         In Flanders fields.
Take up our quarrel with the foe:
To you from failing hands we throw
   The torch; be yours to hold it high.
   If ye break faith with us who die
We shall not sleep, though poppies grow
         In Flanders fields.